Georgetown
Washington D.C., District of Columbia 20007
Georgetown, Washington D.C. Real Estate
Georgetown: A Gem of Washington D.C.


A History
Georgetown is a famous historic district in Washington D.C., located on the banks of the Potomac River. Founded in 1751 in what was then considered the Province of Maryland and a British colony, the port of Georgetown predated the establishment of the federal district, and the City of Washington by 40 years. Because of its location along the Potomac as the furthest point to which oceangoing boats could navigate, Georgetown became a thriving port that facilitated trade and shipment of goods from colonial ports in Maryland. By 1751, the legislature of the Province of Maryland authorized a purchase of 60 acres of land from landowners, Gordon and George Beall who became the founders of Georgetown, and the town was officially incorporated with a charter by 1758. This occurred during the reign of King George II of England. Historically, it is not certain whether Georgetown was named for King George II, or if it may have been named for George Beall. Georgetown remained a separate municipality until 1871, when the United States Congress created a new consolidated government for the whole District of Columbia. A separate act passed in 1895 specifically repealed Georgetown's remaining local ordinances and renamed its streets to conform with those in the City of Washington. George Washington also frequented Georgetown, including some of its early taverns, but he played a role in the brokering of this key land deal along with Benjamin Stoddert, another early resident of Georgetown who owned much of the land in Georgetown, as part of the Potomac Company.  The land deal resulted in the acquisition of Georgetown for the Federal City of Washington, on March 29, 1791.  Stoddert was also the owner of Halcyon House located on Prospect Street, and had partnered with General Uriah Forrest to form the Potomac Company.  These land deals between he and George Washington took place at the Forrest-Marbury house, which still stands on M Street, and is now the Embassy of Ukraine.  The home dates to 1788, and was originally owned by Gen. Uriah Forrest, who was also mayor of "The Town of George;" and then later by William Marbury, a real estate investor. (Sources: Wikipedia).

In the early 1800's, while Georgetown had been a thriving port, the Potomac River became clogged with silt, so the Chesapeake and Ohio Canal was constructed to make transportation of goods faster and easier, and even though the Canal was never entirely profitable, it did bring an economic boom to Georgetown through the sale of such things as tobacco and salt, which were later superseded by the coal and flour mills that were able to use the canal for cheap power.  By 1862, the Washington and Georgetown Railroad Company began a horsecar line running along M Street in Georgetown and Pennsylvania Avenue in Washington, easing travel between the two cities.
Today, many of the original historic buildings and homes still line Georgetown's streets, making it a quaint and elegant neighborhood of the city of Washington, D.C.  Georgetown has several historic churches and taverns, as well as other old buildings along its waterfront that date back to its flour mill era. Several of these buildings have been re-purposed today as condominiums or boutique hotels, as well as a large, modern movie theater, and the Georgetown Park shopping complex, which overlooks the C & O Canal. There are several historic footbridges that cross over the Canal which pedestrians and bikers use, and a mule-drawn barge sometimes makes its way down the Canal as part of an historical enactment, during the warmer months. 

One of Georgetown's oldest taverns, built in 1790, still remains today, and is now a private club known as The City Tavern Club located in the original building along M street. Other taverns with a history that are also still in use today as restaurants and/or bars, include Billy Martin's Tavern on Wisconsin Avenue, a couple of blocks up from M Street. This tavern was started during The Great Depression by William S. Martin who had immigrated from Galway, Ireland in 1890, together with his son, William G. Martin, a graduate of Georgetown University, in 1933.  Later, William G. Martin's son, William A. Martin, continued the tradition. Another landmark is the gold-domed Farmers and Mechanics Bank, at the intersection of M Street and Wisconsin Avenue, a block from the waterfront; and one of the oldest buildings in D.C. is also found along M Street, and is known as the Old Stone House, today operated by the National Park Service, with an English garden in the back.

Georgetown is also home to the prestigious Georgetown University, founded by Father John Carroll as a private Jesuit University in 1789, though its roots extend back to 1634. It sits high on a hill, and the campus and its famous clock tower can be seen from the Francis Scott Key Bridge, 

which crosses over the Potomac River from the end of Georgetown's main M Street shopping district into Rosslyn, Virginia. The bridge was named for Francis Scott Key, who was a lawyer and also lived on M Street in Georgetown, in 1808. During the War of 1812, the British invaded and took a relative of Key's hostage holding him on a ship in the port of Baltimore. It was only after the Bombardment of Fort McHenry in Baltimore, that the British released Key's relative, and from this incident, that Key gained his inspiration to write the Star Spangled Banner. The bridge offers scenic views of the Georgetown waterfront, as well as the Potomac River upstream, when driving or riding across it, coming from the Virginia side.  Symbolically, the bridge is now used by people as a prime viewing spot to watch fireworks on the 4th of July.
Georgetown is one of D.C.'s premiere locations for shopping, dining, history buffs, fitness, and recreation.  It is a great neighborhood to explore by foot. With over 470 shops, boutiques, and retail stores, as well as unique restaurants and beautiful historical architecture, Georgetown is a thriving business and residential community.  The quaint historic town homes that line its streets provide interesting and unique architecture, and are always charming to see decorated during the holidays.  In the spring, there is the  Georgetown Garden Tour, hosted by the Georgetown Garden Club, where residents  open their homes to people who wish to visit and see some of the neighborhood's most beautiful and unique gardens.

Explore Thriving Georgetown for Endless Entertainment

The Kennedy Center, seen through a fountain along Georgetown's waterfront


There are three primary commercial corridors of Georgetown. The intersection of Wisconsin Ave and M Street is home to high-end shops, bars, and restaurants. The Shops at Georgetown Park is another popular shopping destination, and the Washington Harbor Waterfront Restaurants
at K Street offer scenic dining as well as delicious seafood, at their waterfront location.  In addition, in wintertime, there is now a beautiful ice skating rink that takes the place of a central fountain with colored lights during the summer, and both offer a main visual as well as a recreational attraction for visitors and residents.


Georgetown encourages residents to explore outdoor recreation, with gardening and fitness programs, as well as scenic and entertaining boat rides that are offered along its waterfront. The waterfront area includes a lovely park that was created at the bottom of M Street, right along the Potomac, next door to the popular waterfront dining attractions.  The Capital Crescent bike trail is another popular attraction for bikers especially in the summertime. The trail can be ridden all the way from Bethesda into Georgetown along the Potomac river, as well as the historic C & O Canal. The ever-popular Key Bridge Boathouse, located under the Key Bridge on the waterfront, is also a popular destination for kayaking and paddle boarding during the summer months.
 Kayakers on the Potomac River by the Key Bridge | Colorful kayaks seen at the Boathouse, from up above
 on the Key Bridge | a foot bridge crossing over the C & O Canal, leading up to the M Street shopping district
Historic churches and homes in Georgetown: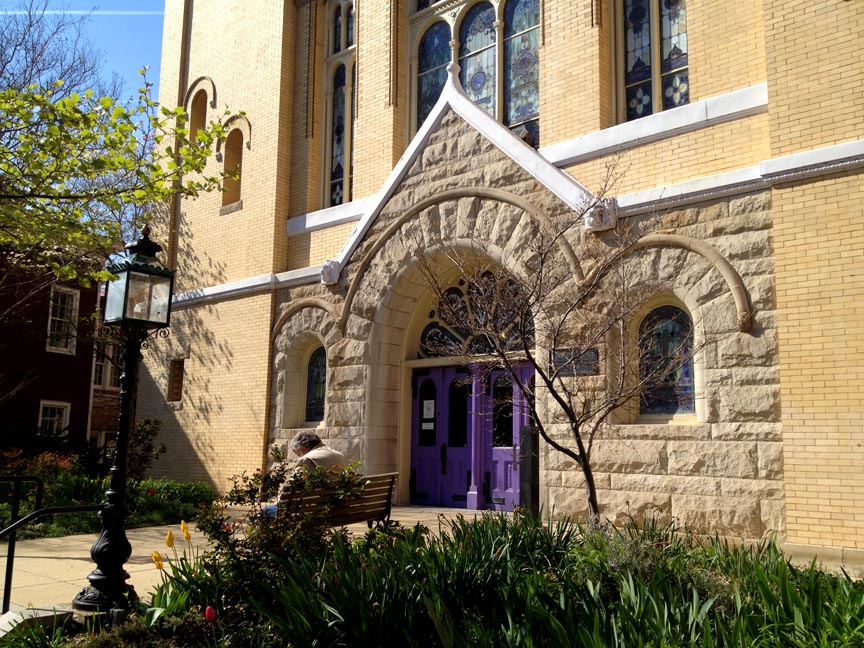 Stately Home | The Wormley School Condominiums 

 

   


 

Fine Dining and Good Eats
Georgetown is home to many fine restaurants, as well as casual eateries and other stops for things like sandwiches and bakeries. But no matter what type of food you're craving, you can find it in Georgetown! From Italian and other world class international cuisine and Caribbean flavors, to cupcakes, pies, ice cream or yogurt, there's a place for it.

Check out some of these favorites:
     Click here to learn more about other restaurants located at the Georgetown Waterfront. 
Outdoor Recreation
Georgetown offers plenty of opportunities for residents to get active and go outside. The C&O Canal National Historical Park contains the 180-mile C&O Towpath open to bikers, joggers, and hikers and offers historical tours on a mule-drawn canal boat.

The Gardens at Dumbarton Oaks are a scenic spot for an afternoon stroll, and programs through the Department of Parks and Recreation offer opportunities for adult and youth sports, fitness classes, and even urban gardening lessons.
Other Interesting Tidbits
Being located in the nation's capitol makes for some interesting exploration and unique history. For instance, Georgetown is home to the embassies of Cameroon, France, Kosovo, Iceland, Liechtenstein, Mongolia, Sweden, Thailand, Ukraine and Venezuela, as well as the prestigious, Georgetown University.
Schools and Education
Georgetown belongs to the District of Columbia Public Schools district. With 111 schools and over 3500 teachers, students of DCPS have access to the resources and facilities to receive a superior education in preparation for life after graduation.
Are you ready to find your dream home in Georgetown, Washington D.C.? Contact us at leads@cbinternationalgroup.com to schedule a showing!
Save
Save
Save
Save
Save
Save
Save
Save
Save
Save
Save
Save
Save
Save
Save
Save
Save
Save